NORTH CHARLESTON, SOUTH CAROLINA
Neighborhood geese taken away to be killed
The Post and Courier
Wednesday, July 15, 2009
More than 75 Canada geese nesting in a North Charleston neighborhood were recently rounded up, packed in trucks and taken to Columbia to be euthanized.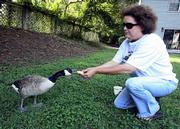 Debbie Dangerfield feeds PollyAnna on Tuesday. Dangerfield rescued PollyAnna when other Canada geese at The Park at River's Edge were rounded up.
Neighborhood residents who welcomed the flocks and helped rehabilitate many of the birds are upset and outraged. One resident, Debbie Dangerfield, said she tried to stop the trucks July 2 as they made an early morning exit out of The Park at River's Edge, but was able to save one goose, PollyAnna, that she had raised and rehabilitated since it was a gosling.
Dangerfield said the community has seven ponds, which over the years have become home to flocks of migratory and resident Canada geese. Dangerfield and many of her neighbors look forward to nesting season, but others insisted the birds were a nuisance, overpopulating the ponds and causing property damage.

Dangerfield said the neighborhood association held a meeting in June to discuss the goose problem and possible solutions and voted to remove the birds, but just a handful of property owners attended the meeting.
Members of the property management association refused to comment. Cathy Ellis, a property manager with Spectrum Properties, which manages The Park at River's Edge, referred all questions to Noel Myers, state director for the U.S. Department of Agriculture's Wildlife Services in Columbia.

Myers said the USDA Animal and Plant Health Inspection Service removed and euthanized fewer than 100 geese from the neighborhood.
Myers said when other non-lethal methods, such as harassing geese with loud noises or remote-control boats, fail, property owners can apply for depredation permits to remove and euthanize the geese on their own — a process that takes several weeks. In addition, the USDA can be paid to remove the birds, which is what happened in this case.
The USDA states that its Wildlife Services division has euthanized about 1,000 geese a year in South Carolina since 2005. Myers said the Canada geese have made homes in urban environments and they can't be managed through hunting programs.
"Relocation is not a viable option," Myers said because when the birds' feathers grow back they will just return.
Beth Mowder of Keepers of the Wild said her team — along with the Carolina Waterfowl Rescue, who had rehabilitated about one-third of the River's Edge geese — could have easily relocated at least some of the birds had she been given the time. She said people need to learn to share their space with wildlife.
"We are the overpopulated ones."
Jessica Johnson contributed to this report. Reach Annie Ierardi at 937-5716 or aierardi@postandcourier.com.
INFORMATIVE ARTICLES ABOUT HUMANE GOOSE POPULATION CONTROL MEASURES AND OTHER ISSUES:


HOME & COMPLETE LIST OF WORST COMMUNITIES